Economic crisis reaches 2008 levels
High inflation and a lack of growth has wreaked havoc across the country.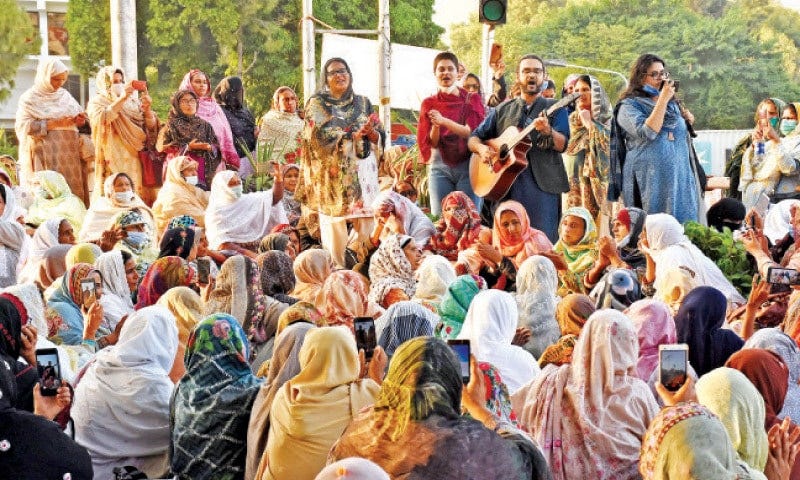 Photo Credit - Dawn
If you have been paying attention to Pakistan's economy over the last two to three years, you know that things are bad. The country entered its first period of negative economic growth for the first time in decades during the last year. Inflation remains sky-high with the prices of essential food items breaking the back of households, particularly lower income ones. Government employees, including Lady Health Workers (LHWs) have been protesting in Islamabad, demanding that the government ease their pain.
But how have things changed for households during this most recent crisis?
After scouring through household income data provided by the Pakistan Bureau of Statistics (PBS) and historic inflation data provided by the World Bank (PBS does not provide a historic consumer price index), I have concluded the following:
Pakistani households are undergoing the most serious period of economic distress since the 2008 crisis.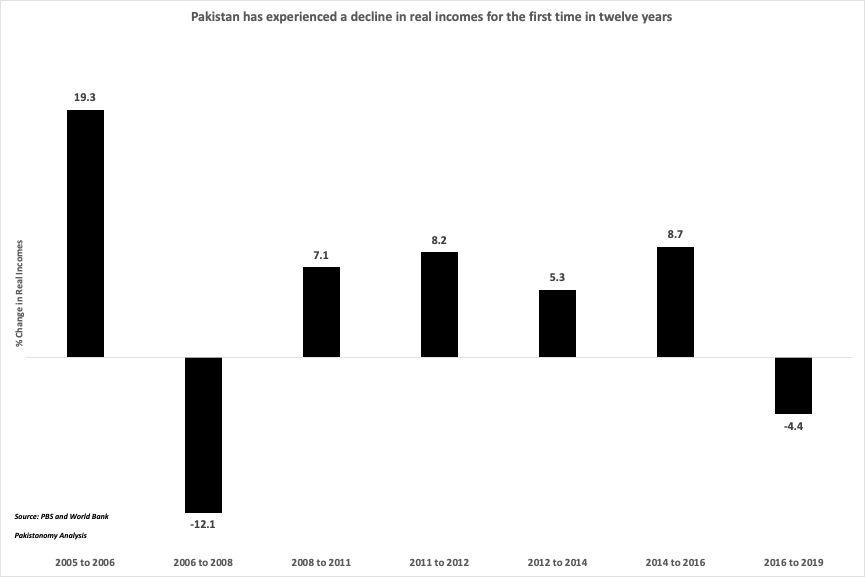 Back in 2008, Pakistan experienced a rapid rate of inflation, chronic power shortages, and growing violence. All of this occurred during a political transition. The Pakistan Peoples Party (PPP) was at the helm of power at that time and the rapidly deteriorating economic situation dented the party's popularity.
Since then, real household incomes (the difference between nominal income growth and inflation) have rebounded, showing consistent growth for a solid 8 years, until 2016. But in recent years things have reached a breaking point, with households across the country witnessing a decline of 4.4 percent in real incomes from 2016 to 2019.
The situation is particularly precarious in urban parts of Pakistan, with all provinces witnessing a decline in real incomes from 2016 to 2019:
Urban KPK — 15.4 percent decline

Urban Balochistan — 9.8 percent decline

Urban Sindh — 4.5 percent decline

Urban Punjab — 2.5 percent decline; urban Punjab saw a 2.1 percent decline in real incomes from 2014 to 2016 as well, meaning that the situation is precarious there.
Parts of rural Pakistan are also experiencing significant pain, with rural Sindh being the worst hit — real incomes there have declined by 10.2 percent; rural KPK has seen a decline of 9.9 percent; rural Punjab has experienced a decline of 6.6 percent and rural Balochistan is an outlier, with real incomes increasing by 5.5 percent.
After 2008, the PPP oversaw a rebound that allowed it to maintain a tenuous grip on power
After the 2008 crisis, the PPP-led government was able to turn things around, delivering a 7+% growth in real incomes for Pakistani households. The biggest beneficiaries of this turnaround were urban households.
Between 2008 and 2011, urban centers came back with a roar:
Urban Punjab — 66 percent increase in real incomes

Urban Balochistan — 48.4 percent increase

Urban KPK — 30.9 percent increase

Urban Sindh — 29.8 percent increase
Agricultural gains also helped rural parts of the country recover from 2008 to 2011:
Rural Sindh — 27.4 percent increase in real incomes

Rural Punjab — 16.1 percent increase

Rural KPK — 13.8 percent increase

Rural Balochistan — 154.4 percent increase
In the long-run, this rebound did not help the PPP in any way, shape, or form, as the party's public perception was destroyed through one corruption scandal after another. However, the rebounding economy and political compromises allowed the government to finish its tenure and oversee the first peaceful, civilian transfer of power in the country's history.
The PTI must focus on income growth
While the opposition alliance seeking to gain ground against Prime Minister Imran Khan, I believe that the economy poses the single biggest threat to the current government.
Mounting public discontent during the winter will help the opposition make inroads across the country, particularly in urban Punjab, KPK, and Sindh. The PTI's urban support remains strong, but as the data shows, urban households are going through very difficult times.
If the PTI wants to maintain a firm grip in power, it must work overtime to control inflation and ease the pain being felt by households. This must start with getting a grip on the country's food supply-chain — a food crisis has gripped the country and prices of essential items have gone through the roof.
Following that, the government must find ways to stimulate demand and get money to people across the country, particularly the less privileged. This will be hard to do given the fiscal constraints on the budget, but Imran Khan's economic advisors must find a way.
In this newsletter, we have repeatedly talked about structural reforms that need consensus and focus. But structural reforms take time and need political consensus. They require the government to have some political capital that it can expend to push the reforms.
The way things stand, the PTI does not have any of the vital ingredients necessary to push through these reforms. With Pakistani households facing the most serious economic crisis in over a decade, Imran Khan must find quick solutions to ease the pain. If he fails, he may find himself facing the wrath of more than just an opposition alliance.